RESEARCH


Surveying Natural Gas Locations Around the World


COUNTRY
AMOUNT OF GAS
Algeria

140 billion cubic meters

Australia

390 billion cubic meters

Belarus

212 billion cubic meters

Canada

195 billion cubic meters

China

740 billion cubic meters

Egypt

69 billion cubic meters

France

590 billion cubic meters

Finland

105 billion cubic meters

India

666 billion cubic meters

Libya

90 billion cubic meters

Mauritius

320

billion cubic meters

Namibia

1,200

billion cubic meters & 600 billion cubic meters

Netherlands

700

cubic meters

Poland

340

billion cubic meters & 52 cubic meters

Sudan

500

billion cubic meters

Saudi Arabia

150

billion cubic meters

Serbia

116

billion cubic meters

Ukraine
1,100 cubic meters
United Kingdom

450

billion cubic meters

USA

530

billion cubic meters

USSR

460

cubic meters



PLEASE LOOK AT THE GOOGLE EARTH MAPS BELOW WHICH SHOWS YOU FOUR AREAS OF OIL & GAS FIELDS ON THE BORDERS BETWEEN RUSSIA AND THE UKRAINE

There is a coding system that I use which is shown as outlines and markers on the maps as follows:

Green – is for oil only
red is for natural gas only
purple is for oil & gas deposits


MAP 1

This map borders the boundaries between Russia and the Ukraine. As you can see to the far west there is oil & gas, then further east there are oil deposits and further east again there is a large area of gas deposits which contains 710 billion cubic meters of gas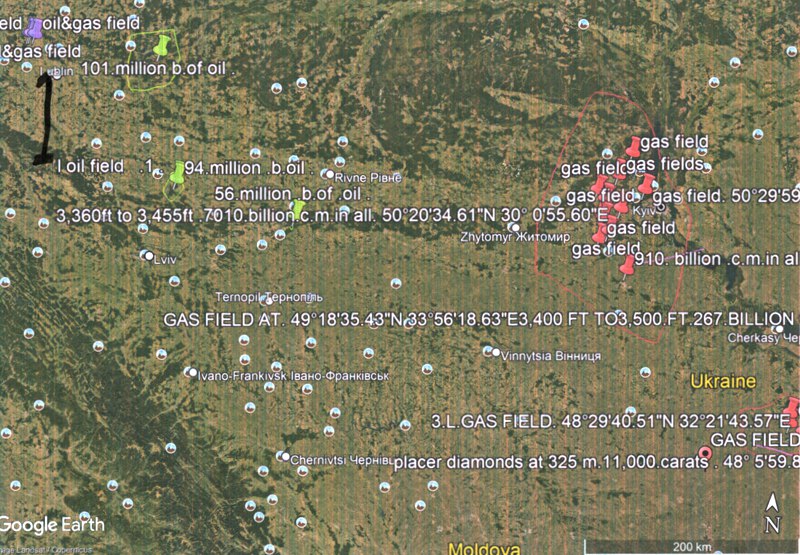 MAP 2

This map is a continuation of map 1 moving to the east. Again you can see to the north a cluster of green markers indicating oil fields straggling the border between Russia & the Ukraine. Further to the south there are gas fields, some of them are marked out with a red boundary indicating the size of the gas field. Further to the east again is straggling the borders between Russia & the Ukraine are oil & gas fields marked out in purple.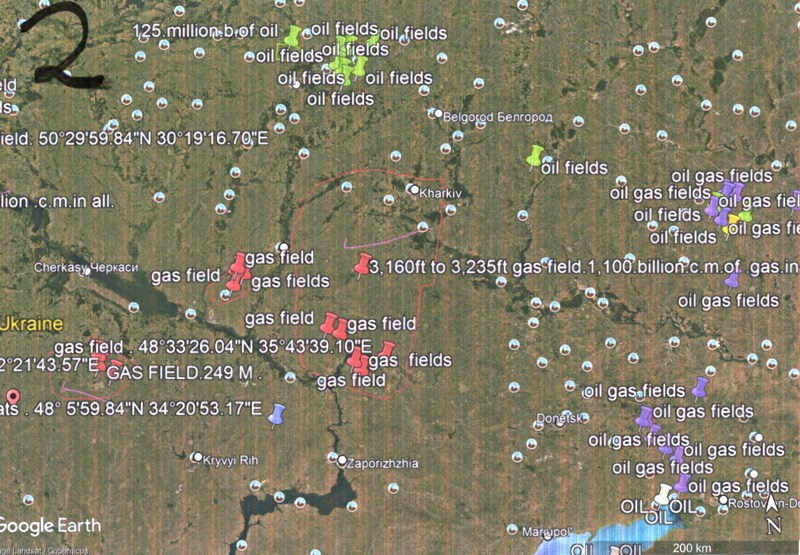 MAP 3

This map shows you the southern part bordering Russia and the Ukraine using a guide 10km. You will see from this two potential oil fields and six potential oil & gas fields.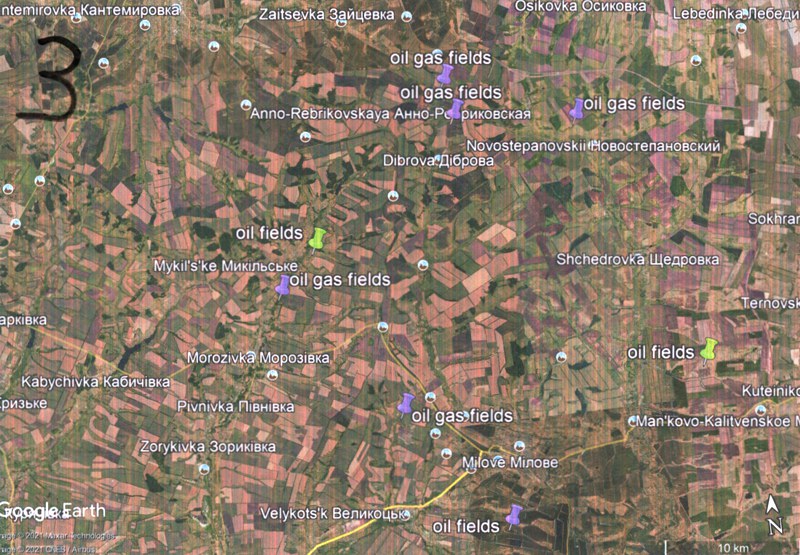 MAP 4

This map shows a close up at 20km. This oil field is on either side of the border between Russia and the Ukraine which is interesting to note perhaps.


---


MY LATEST RESEARCH INTO FRACKING AND OIL & GAS IMPLICATIONS HOW TO AVOID DESTROYING ANCIENT WATER SOURCES please click here
---
I worked for Hurricane for 4 years under 2 contracts parts of each are shown below. Hurricane was satisfied wtih the work that I did at the time. I did locate several fields on the mainland of Britain for them over the time I was with them.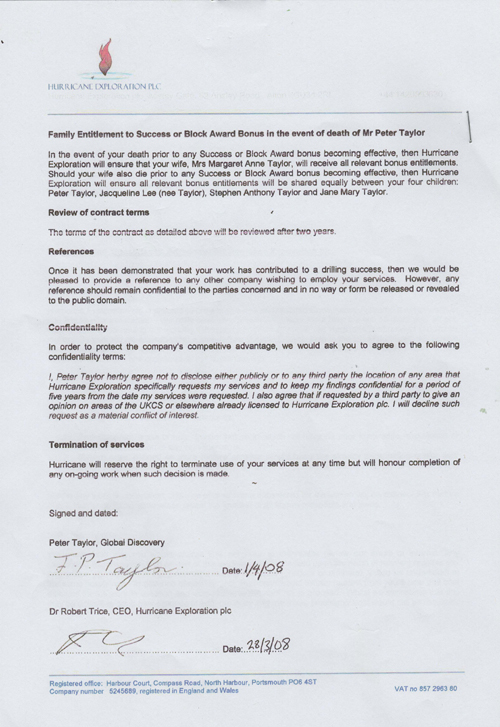 See below for the latest reference from this oil company. I am unable to mention the name, or location because of the confidentiality clause. The chief geologist of the company offers the following testimony to my work:
'Peter has shown a remarkable ability to identify the presence of geological structures in the subsurface that could potentially be hydrocarbon-bearing. In several cases his dowsing has highlighted areas where oil or gas could be present and which when subsequently checked against seismic data have indeed shown the presence of viable leads or prospects. Based on this work, the company has acquired acreage and identified prospects that it would not otherwise have considered or recognised. His work has also proved to be a valuable screening tool when evaluating exploration opportunities offered by other companies. Having worked with Peter now for several years we are therefore of the firm opinion that his ... techniques can make a significant contribution to the success of an exploration company. As a final comment, our experience has shown that it is important for both the geologist and Peter to work together in order to get the best results - from the geologist's perspective Peter's work can certainly make you think again and reconsider the prospectivity of areas that you may otherwise have dismissed or overlooked, whilst for Peter the technical and scientific insight provided by the geologist helps him to fine tune his ... technique to the subsurface geology
My Contract with Hurricane started in 2006 which was a 2 year contract followed up by a second period extending to 2008. In 2006 to 2007 I did quite a bit of work locating potential oil fields for the Company first of all by remote surveying then as usual on site when I located a potential oil field west of Salisbury in the area of Bishopstone. I worked out the depth and quantity recoverable which at a later date I was called down to Salisbury to work on site as this improves the accuracy to locate the potential field together with the geologist of the Company. I was informed that 2 million to 3 million barrel would be financially feasible. This particular field was indicating a capacity to recover over 10 million barrels from the site. Unfortunately they decided not to go ahead with this particular site as they felt they could pursue and get larger volumes in the West of Shetlands.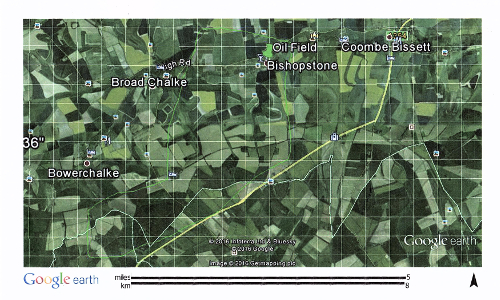 The map above shows the area in question close to Salisbury.
About a year later I had also located by remote surveying an area in Perthshire further oil fields which again we were both called out to check the site where I did a depth count and quantity count and checked out for faulting and fractures whilst I was there. It was later confirmed that there was a good volume of oil in that area and in the region that I had predicted on site. A siesmix survey was taken to support my findings which in due course it did and also indicated that it would be financially feasible to raise.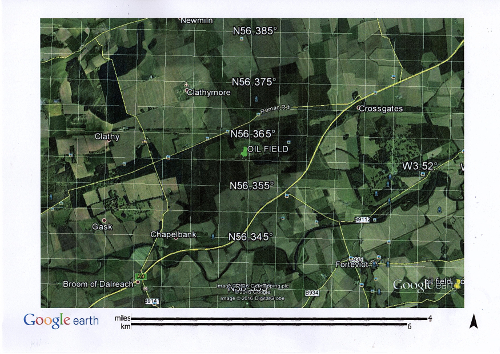 This map indicates the Perthshire area
I was asked later on to check out the West of Shetlands. First of all on a large planning map bigger than an ordnance survey map. Having said that the map surveying as always only gives us a guide as to the potential target area, a site visit is always advisable. The Company had already marked out some lead on the plan and I was asked to check out these sites which I duly did. Some of the sites were indicating oil to me but the porosity of the rock in some cases seemed to be poor. On other sites I didn't get a good indicator of oil. I marked out the potential areas that I had a good reaction on. Some were not on their leads but nearby which I had indicated potential oil. Our contract finished in 2010 so I am allowed now to pass my thoughts on. I do believe that if I would have been asked to go out to sea to check those areas I would have picked up the same areas as the Company has as this would of confirmed the oil potential fields like I did in Salisbury and Perthshire. As far as I am aware the field in Perthshire and Salisbury are still free. For those of you oil men who are looking for worthwhile oil reserves I know of plenty in and around the UK itself just contact me.